Singing Bird Clock (with extra)
While I was window shopping on Amazon in a daze, I thought, "Oh, this could be good!"
That is what this "Singing Bird Clock" is.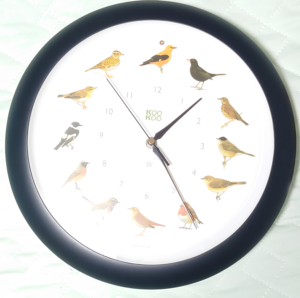 Moreover, this "Singing Bird Clock" was kind enough to add an extra bonus.
That is here.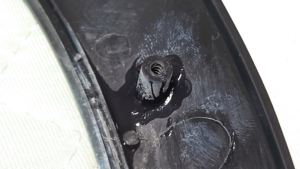 The screw holes in the black frame were broken.
"Did you cut a screw?"
"Was it damaged in transit?"
"Was it damaged due to lack of strength?"
We are currently requesting this person to investigate.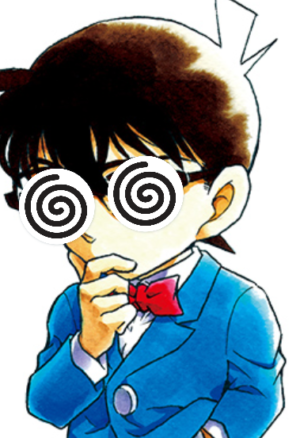 We will not be able to provide your name as it may interfere with the investigation.
I may report back as soon as I know the status.
Adhesive (Aron Alpha Professional Impact Resistant)
However, it is in times like these that we can count on our reliable ally of justice to play an active role.
The name of the product is "Aron Alpha (professional impact resistance).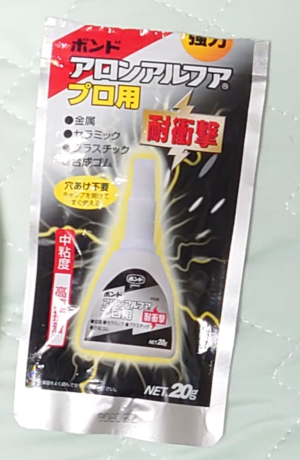 To be honest, I was worried that the twisting force when fastening the screws would damage it again even after gluing it in place, but it was fine.
I'm glad I tried it.
So, how do you feel about using the "Singing Bird Clock"?
I didn't expect to win the lottery (damaged goods), but the feeling of use is not bad.
The birds chirp every hour or so. So, I don't have to worry about "I was so absorbed in the work that the time has passed…".
It is also quiet because there is no "ticking" sound of the second hand.
The birdsong is also natural because it is made from recorded sounds.
It is equipped with a light sensor, so the birds will stop singing when the lights are turned off during sleep.
The only thing is that the material of the watch itself feels cheap. If it were not for that, it would be a "Good Job!
Function Description
Since there is no instruction manual in Japanese, the explanation is based on guesswork.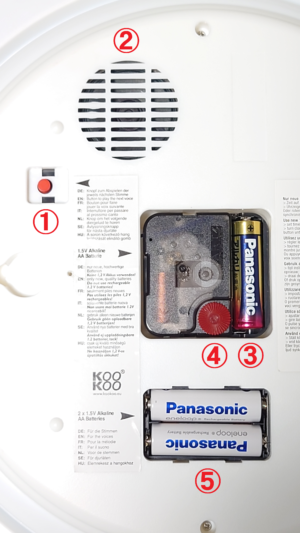 switch button (each time it is pressed, the birds take turns singing)
Speakers (you can hear the birds from here)
Batteries (probably for clock function)
Crown (to set the time)
Batteries (perhaps a birdcall battery. By separating the power source from the (3)-number battery, the burden of setting the time for battery replacement is reduced.)
Introduction of Birds
In the singing bird clock, at each time of day, the birds sing for about 20 seconds.
0:00 Pirol Raaderwald channel, Mr. Pirol Gesang im Raaderwald video
1:00 Amsel Marin Vlasic channel, Amsel Gesang video
2:00 Singdrossel ullrich seibtchannel, Gesang einer Singdrossel video
3:00 Blackcap Eurasian 4K Ultra HD Wildlife & Nature channel, blackcap (Sylvia atricapilla) – Male singing his beautiful bird song ⁴ᵏ ᵁˡᵗʳᵃ ᴴᴰ video
4:00 Garden Warbler Birdfun channel, Garden Warbler Singing video
5:00 Robin Paul Dinning channel, Robin Bird Song – Singing with Passion – The Loudest Robin Ever video
6:00 Nightingale Birdfun channel, One Hour Relaxing Birdsong: the Nightingale.video
7:00 Bluethroat E Bax channel, bluethroat singing.avi video
8:00 Redstart Birdfun channel, Common Redstart Singing video
9:00 Collared Flycatcher Lars-Åke Theorin channel, Halsbandsflugsnappare (Ficedula albicollis) Collared Flycatcher video
10:00 Willow Warbler Birdfun channel, Willow Warbler Singing video
11:00 Woodlark Wildlife World channel, Woodlark. Birds singing and chirping in the spring forest | Wildlife World video
At the end.
With the spread of smartphones, clocks themselves are likely to become unnecessary.
But this is good for a change of pace, as the birds chirp to let you know every hour of the hour.
The sound of birds singing in nature reaches our hearts.
【 Sponsored Links】