Let's talk about the surprisingly attractive and safety performance of EyeSight with a catalog.
What is EyeSight?

Subaru's driving support system aiming for zero traffic accidents.
Subject car is INPREZA SPORT
Car name: Impreza Sport
Vehicle type: dba-gt2 [dbagt3] 2019 model
EyeSight performance varies by type and version
It's been about 3 years since I've been on it.
Pre-crash brakes (brake control to avoid collision)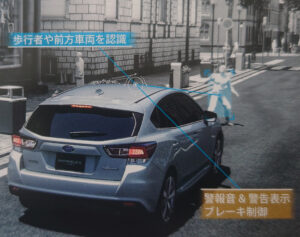 Description: Automatic braking is activated depending on the situation while a warning indicator is displayed to the driver.
Experience 1: A car violating the primary stop sign crossed the stop line and stopped. I was wary because I felt like it was going to jump out of the way somehow, but then I thought, "Oh! He did it!"
Immediately after shifting his foot from the gas pedal to the brake, the automatic brake was triggered by a moment's difference.
Although it went without incident, I felt that "the operating speed was not half as fast as it should have been.
Experience 2: It is the day of an approaching typhoon. The wind was picking up and I was driving home early.
Suddenly, a warning sign pops up.
In fact, there was no jump-out, but a wind-driven bamboo tilted and leaned heavily on the road, which was misjudged as a jump-out.
The car must have feared that the body would be damaged.
Backward automatic braking system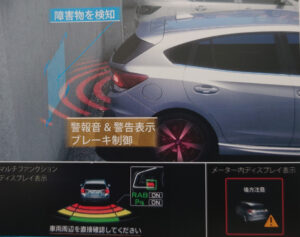 Description: Automatic braking is activated depending on the situation while a warning indicator is displayed to the driver.
Experience: because the sonar sensor is attached to the bumper, it sometimes did not respond to objects lower than it. The muffler and bucket touched softly. Emptiness.
AT false start suppression control & AT false backward traveling suppression control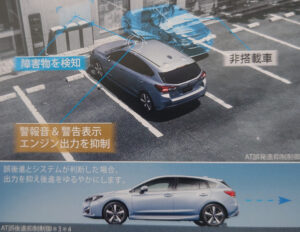 Explanation: Suppresses sudden starts due to incorrect operation, such as when exiting a parking space.
Experience: I have never experienced this, so it remains a mystery if it really works.
I would like to remain a mystery forever.
Cruise control with all-speed follow-up function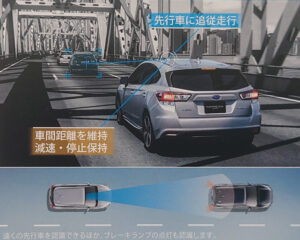 Description: Follows the car ahead on highways, etc. Comfortable long drives, from high-speed cruising to slow driving, with reduced acceleration and braking operations.
Experience: When I used this "cruise control" for the first time, I was impressed that "the future has arrived!"
After driving on the highway at night and returning home, you can feel a reduction in the burden on the human body.
active lane keeping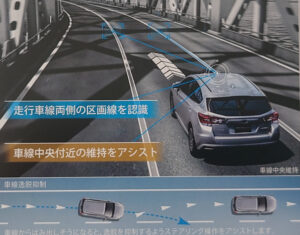 Description: Recognizes the demarcation lines on both sides of the travel lane. Assists steering wheel operation.
Experience: When I activated both this "Active Lane Keep" and the above "Cruise Control" function, I was even more impressed this time, "Here comes Doraemon!"
Warning Notification Function
Description: Notifies the driver with sound and display if the vehicle continues to stop without noticing the start of the vehicle ahead.
Experience: the car informs you in the language of R2-D2 (just kidding)
We are not indebted to this function, but when this "warning notification function" is triggered, it is a good opportunity to notice when there is something that causes a lack of attention.
At the end.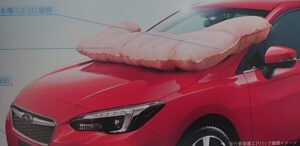 The event that led me to own this Impreza Sport was when I went on an expedition for a bicycle competition. In a conversation with a competitor from a neighboring prefecture, he asked me, "Why aren't you driving a Subaru, even though you are from Gunma? I was originally a car enthusiast, so I came to this point.
It somehow stuck in my mind. I had always been a car enthusiast as well.
We hope to keep running together forever.
[スポンサーリンク Sponsor Links]