As of September 30, 2023
Rakuten Pay, a convenient application that allows you to pay with only your smartphone without carrying your wallet.
In this issue, we will talk about the little-known points you can earn by recharging, and how you can save even more!
What is a good deal for a charge?
Charge Rakuten Pay (Rakuten Cash) with Rakuten Card.
Then, you will get "0.5%" point savings!
"・・・・・・ not much,huh? And you, there, who thought, "I'm not sure what to do! There's more to the story.
You use this charged Rakuten Pay (Rakuten Cash) to make purchases at "convenience stores and supermarkets".
Then you get 1% more points for even more savings when you pay!
I mean…
0.5% + 1.0% = 1.5%
1.5 times.
However, there is a hassle of recharging every time the balance decreases, so don't say, "That's a hassle!
preparation
1. apply for "Rakuten Card" (check for various application campaigns)
2. Install the "Rakuten Pay" application on your smartphone
3. register and set up your Rakuten Card information on Rakuten Pay
Examples of Use
First, the charge.
Check the charge method (red square) and enter the amount you wish to charge.
(Charge from 1,000 yen or more.)
If you charge with a credit card other than Rakuten Card, you will not receive any points.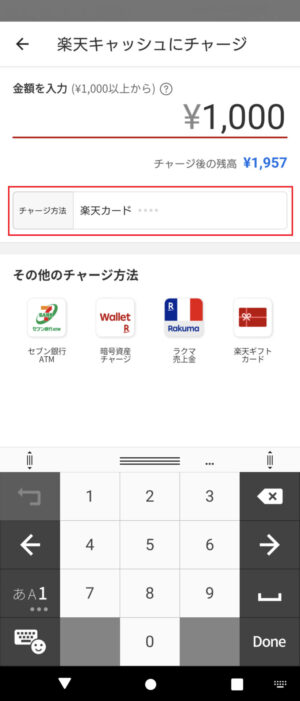 When properly charged…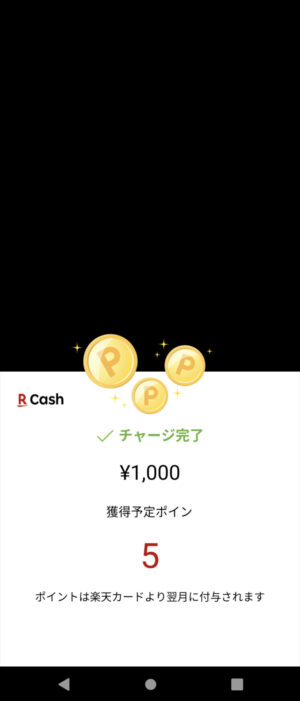 That's it! It's easy!
Then shop with Rakuten Pay as usual!
(You get an additional 1% point when you pay)
Let's not be careless
As a reminder, always check your balance before shopping!
f you don't have enough, you will be in a hurry in front of the cashier.
Biometric authentication when charging is fine, but a password is dangerous because it can be "seen" and stolen!
Follow the dosage and use it without strain.
[Sponsor Links]